Each print is 16" x 20" overall size is 19" x 23"
Aviation Prints are rolled in original plastic sleeves.
Never been framed. Excellent Condition
Payment through PayPal

Send an email to dj1953


Priority Mail Shipping
"USA only"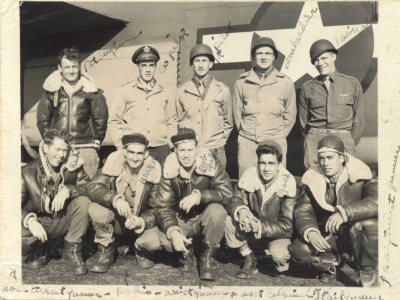 Crew of the bomber Swan-Sons
Shot down near Uffeln, Germany, 24 February 1944
Pilot
1Lt. Sidney D. Swanson
KIA
Co-Pilot
2Lt. Ralph T. Clapps
KIA
Navigator
2Lt. Donald F. Zielinski
KIA
Bombardier
2Lt. Alexander Raffy
*
Bombardier
2Lt. Bruce G. Caturani
POW
Engineer/TTG
T/Sgt. J.A. Krauss
*
Waist Gunner
T/Sgt. Arthur J. Tinklepaugh
KIA
Radio Operator
T/Sgt. Edwin H. Barker
POW
Nose Gunner
S/Sgt. Dudley W. Reaves
KIA
Waist Gunner
S/Sgt. Robert R. O'Gorman
POW
Engineer/TTG
S/Sgt. Robert A. Graham
POW
Tail Gunner
S/Sgt. John D. Speakman
POW

* NOT on board this mission

I've created a moving family memorial and tribute to 1st Lt. Sidney D. Swanson (my late husband's uncle) and his crew which is posted here. My memorial includes more extensive background information on their WWII Big Week mission and the story of the fateful events of that day and their aftermath.